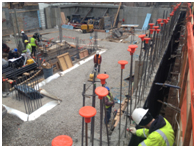 Pillori Associates celebrated 20 years in practice in 2015. Our practice includes subsurface investigations, analysis of soil and rock behavior, design of foundation elements, and design of related earthworks for support of a variety of structures including high-rise buildings, communications towers, waterfront structures, industrial manufacturing plants, commercial buildings, mid and low-rise residential buildings, school buildings, libraries, shopping centers, roadways and parking lots, and playgrounds and municipal parks.
We believe that an efficient foundation design begins with an excellent geotechnical engineering study and that excellent geotechnical studies require experience in the practice of foundation design. As such, Pillori Associates strives to provide a full range of geotechnical services for our clients in both the private and public sectors.
Each project assignment begins with a thorough search of published geologic data together with a review of proprietary data from other project sites within close proximity. The subsurface investigation program is developed and overseen by the same experienced engineering professionals who evaluate the data, prepare our investigation reports and design the foundation elements necessary for construction.
Data compiled during the geotechnical study are evaluated using state of the practice analytical methods and the results are prepared for inclusion in our geotechnical engineering reports and foundation designs. Our engineer designs emphasize tried and true methods with innovative adaption that account for advancements in material technologies and construction equipment design.
Preparation for Mat Foundation
Pour

Three Story Cellar Excavation and Foundation in Bedrock

Mat Foundation Pour after Underpinning & Support of Excavation